Decentralized Exchange made Simple
ChainUp solves
the disadvantages of DEX
Bring the best user experience to global investors while providing enhanced security, user empowerment, preserved privacy, transparency and high liquidity
Why is DEX in demand?
User Empowerment
Unlike CEXs, DEXs ensure users have full control over their assets at all times. Investors need not deposit assets into DEXs, reducing risks associated with potential hacks or insolvencies.
Enhanced Security
Operating on decentralized networks, DEXs inherently offer superior security compared to CEXs. The absence of a central point of failure makes it substantially more challenging for hackers to breach the system and steal user assets.
Preserved Privacy
DEXs provide users with a higher degree of privacy than CEXs. Users can trade without revealing personal information, and all transaction records are maintained on a public blockchain, not on the exchange's servers.
Transparency
Transactions on DEXs are transparent, unlike on CEXs where certain specifics are hidden from the investor. Anyone can verify DEXs translations on the blockchain, making it difficult for malicious actors to engage in fraudulent activities or market manipulation.
Accessibility
DEXs are universally accessible to anyone with an internet connection and a digital wallet. This inclusivity stands in contrast to centralized exchanges, which often impose stringent criteria for user participation.
ChainUp Software-as-a-Service DEX
Ultimate Trading Experience
Enabling users who are accustomed to CEX to grasp the usage of DEX rapidly
ChainUp Software-as-a-Service DEX
System Architecture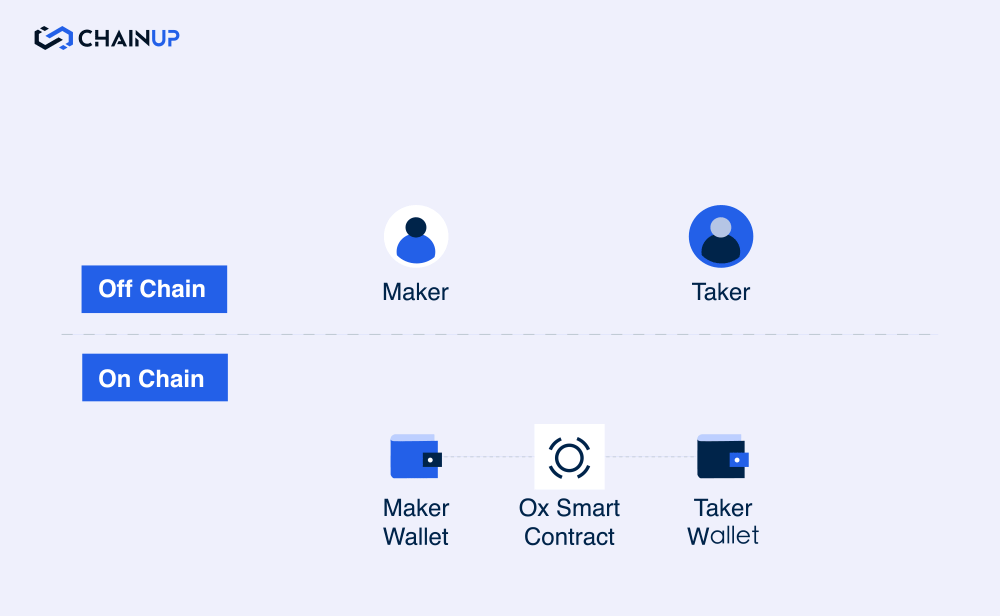 ChainUp SaaS DEX
Futures Exchange
Depth and market of top-level trading liquidity

Traders can obtain higher returns through 100-times leverage trading

Savings on gas fees

Low transaction fees

Multiple fiat currencies deposit
Spot Exchange
Order book exchange

Ideal for liquid markets

Optimal for surfacing market prices and placing large orders

Reduce the risk of slippage

Widely accepted by both institutional and retail traders

Off-chain aggregation

On-chain settlement
ChainUp is interested in your DEX's post-deployment success
All
data security

challenges will be taken care of
We prioritize user's privacy by implementing wallet and exchange authorization binding by eliminating the need for registration. This approach ensures that personal identities are not disclosed creating a more privacy-focused and secure trading environment for users.ChainUp DEX provides real-time, multiple areas hot backup and regular cold backup of data to achieve zero data loss. Data governance, global data disaster recovery system, database daily monitoring are also available.
All
marketing efforts
will be taken care of
ChainUp does not stop at launching your DEX. Our DEX comes with
built-in marketing tools to acquire new investors
and advanced operational tools to activate existing investors, increase engagement and retain them.
The invitation rewards tool will assist DEXs to attract more investors to register and trade through invitation links or codes, which can effectively promote the user growth and trading volume.
All
user experiences
will be taken care of
Besides including core modules that are similar to CEXs and integrating CEXs' operational flow, ChainUp DEX provides a comprehensive back-end management system, allowing you to take complete control of your data back-end and easily query information. We provide the flexibility to customize the front-end page presentation by enhancing visibility, recognition of your decentralized exchange by creating a tailored and unique experience.
Are you ready to be a groundbreaker?
Experience ChainUp DEX now
CEX-like user experience

Large liquidity network

High commission sharing

Built-in marketing tools

Institutional-grade security

Rapid deployment

24/7 Global Experts support
News or press release
Search engine (Google, Bing, etc.)
Online Advertisement
Recommended by friend/colleague
Social media (LinkedIn, Twitter, etc.)
Blog or publication
Event or Conference
Other (Please specify)